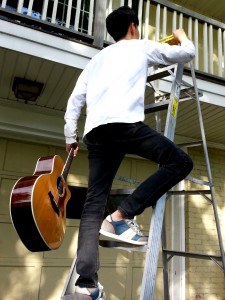 Someone once said that every time you play a song in a new key, it's like visiting a new country.
I agree.
The landscape is different, the feel is different. It can really be refreshing.
There may be mechanical reasons to change the key of the song. Maybe it's too high for you to sing comfortably. Or maybe you could play the song a little easier in a different key than the original. Or maybe you just like it somewhere else.
On the guitar, transposing can be as easy as using a capo (a clamp-type device placed on the neck to raise the pitch of all the strings equally). If the capo works for you, by all means, use it. I'll use mine on occasion. But a capo has limitations.
What I'm going to describe is the actual process of transposition, that is, intentionally moving a melody and its chords up or down as much as you want. You've got complete freedom, yet the song remains intact.
The big idea here is to use numbers as the common ground.
5 Steps For Transposing
1. Build the major or minor scale for the key you are in, and number each scale tone. (Which chord can you finish the song on? That's the key.)
Let's say we're starting off in the key of C (easy place to begin). Here's the scale with its corresponding numbers:
1    2    3    4    5    6    7     8
C   D   E   F    G    A    B    C
2. Translate your melody into numbers, representing each note's place in the scale (we call these scale degrees, fyi).
For this example, we'll use one of your Top 10 favorite folk songs of all time, "On Top Of Old Smokey", although this technique works for all styles & genres:
1    1    3    5    8       6       4    4    5    6    5
C   C    E   G   C       A       F    F   G   A    G
1    1    3    5    5       2        3    4    3    2    1
C   C   E   G    G      D       E    F    E    D   C
3. Give each chord a number as well, again taken from its position in the major scale. Be sure to add whether it's major or minor (capital Roman numerals for major, lowercase for minor).
In "Smokey", the chords are as follows:
F (IV)                                    C (I)
On top of old Smokey, all covered with snow
G (V)                                C (I)
I lost my true lover from courtin' too slow.
4. Decide if you want the song to be higher or lower, and how far. Build that scale.
Let's say that the song just gets a little too high for me to sing, so I'll need to lower it a bit. (I know I titled this blog "Stepping Up", but you can go either direction. Work with me.) If I take it down a whole step, now I'm on Bb:
1     2     3    4     5    6    7    8
Bb  C    D   Eb   F   G    A   Bb
Chords:
I = Bb major
IV = Eb major
V = F major
5. Now apply the numbers you assigned for the melody and chords to the new scale. Keep all rhythms the same as they were.
Old notes:                                 C    D    E    F    G    A    B    C
Scale degrees:                          1     2     3    4     5    6     7    8
Now become:                           Bb   C    D   Eb   F    G    A   Bb
Chords now change to:
Eb (IV)                                 Bb (I)
On top of old Smokey, all covered with snow
F (V)                                 Bb (I)
I lost my true lover from courtin' too slow.
Thinking about the melody and chords this way allows you not to just transpose to a single key. It allows you to transpose to every other key. When you think about numerical relationships, it applies to all keys. The more you get used to thinking in numbers, the faster this process becomes.
Your Turn
Try transposing a verse or chorus from one of the songs you already play. Use these 5 steps, and you'll be able to put any song in just the right key for your voice or your instrument. Or try taking the last chorus of your song up a half step for some added energy at the end. (Barry Manilow made a career for awhile out of key changes in his songs! It was a bit overused, but it worked for him. He's really a fine musician, by the way.)
How have you used transposing in your music? Please leave your comment below, or email any questions you have about transposing, music theory, or next-step musicianship to [email protected].
© 2014 Steve Case