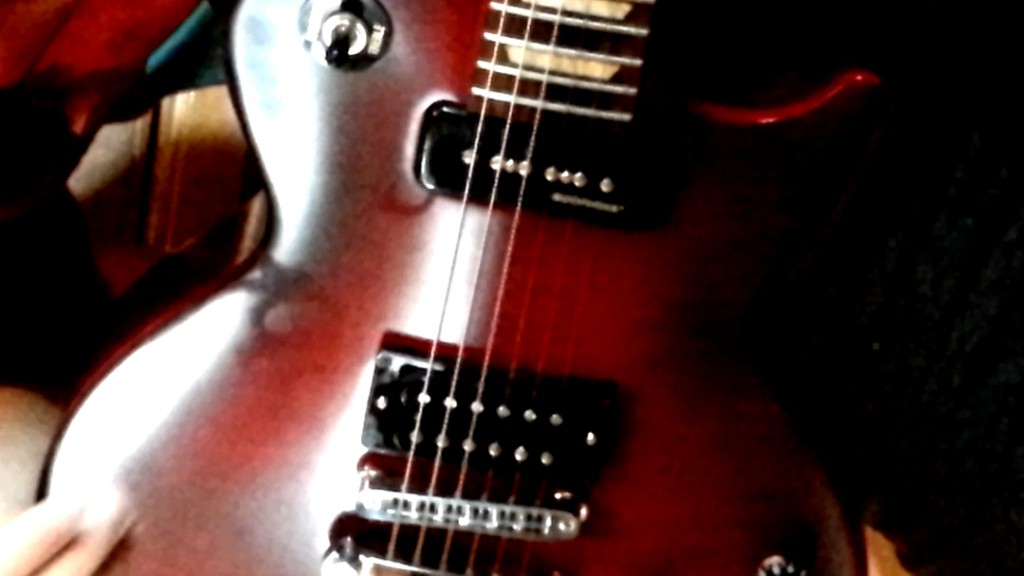 So Andrew walks into my studio for his guitar lesson, sits down and pulls out his electric guitar.
A shiny new Gibson Les Paul Min-ETune.
I'm not sure what to think. Looks nice. But what's up with the name? Oh, I get it, it tunes itself. Sure.
Now I am often an old school kind of guy, not fond of short-cuts or technologies that replace the need for self-improvement. Although there are exceptions, I'll admit. Like my Snark tuner. Or my peg winder. Or my Shazam app on my phone. Or my digital metronome that allows you to turn down the volume so you don't have to hear the click, you can just watch the moving needle while you play.
Okay, maybe I'm not as old school as I'd like to think.
Andrew's guitar is a nice piece of work, any way you look at it. Hey, it's a Les Paul. He let's me take it for a spin. Plays nice, feels good. A decent representation of the typical Les Paul quality.
But when I turn it over to look at the back of the head-stock, I now see the magic behind the curtain. A small box is neatly hidden between the tuners, complete with indicator lights telling me which tuning is now in effect.
"So I can just push a button, and it will re-tune the whole guitar for me?"
"Yup."
Apparently this technology has been around for 6 or 7 years, and because I diligently keep up to date on cutting edge musical trends and toys, I'm coming up to speed on this one now.
Handing his guitar back to him, Andrew demonstrated for me. Take a look.
The robotic tuning system really does a n ice job, even with significantly different tunings. It will adjust, then readjust the tension on all the strings, anticipating the tension on each string and how it affects the others. Given the amount of stress on the neck overall, each string's tweak can and will throw all the others off. But it knew that and compensated.
This tuning system will go from standard tuning to DADGAD and back in a matter of seconds. And I found as I played it, the tuning was either perfect, or really close. If you want to see it in action, check out this video clip. The guitarist uses the tuning function in the middle of a song – he doesn't play for 4 measures, then comes in powerfully in a different tuning. This opens up lots of new possibilities!
The creator of this system, Tronical, has now created after-market systems for several other makes that got my attention, including Fender (for Stratocasters and Telecasters), Ibanez and even Taylor acoustics. Hmm…
I doubt that I will install an E-Tune system any time soon. But it is a fun development that will, I'm sure, catch on. Now if we could invent robotic picks that never missed a string, we'd really have something.
What's the coolest piece of technology that has helped you play your own music? You can leave a comment below, or email any questions you may have about music theory, playing the guitar, or next-step musicianship to [email protected]
© 2014 Steve Case