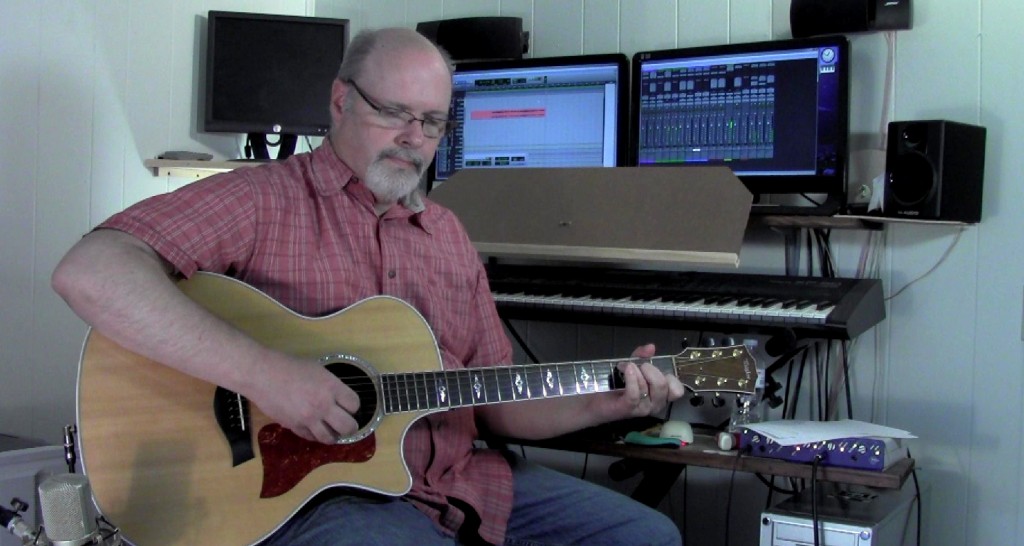 Last week, we talked about using contrast in order to convey emotion, to give our songs depth and musicality. This week, we'll put a little more flesh on the bones.
If you are the guitarist in your worship band (or any band, really), you will probably spend a great deal of time as the rhythm player, producing the mid-range chord progression that gives foundational shape to the music. It's REALLY IMPORTANT for you to play using contrast in many ways. If you don't, you will undermine the efforts of the rest of the team to convey the appropriate emotion for the song. But if you do, you will lead the team in crafting some incredible moments, each an invitation for the congregation to enter into musical worship with you. Not a task to be taken lightly.
Strumming Comes First, But You Can't Stay There
When a guitarist first picks up the instrument, often the first thing he (or she) will do is figure out where the fingers of the left hand should go for a chord, then the strumming begins. Before long, a little off-beat emphasis (called syncopation) is added, and hey, he's playing a folk-style strum! And that is a very exciting step.
But as valuable as a folk strum may be, you can't use it on everything. Sometimes it just doesn't fit. And if you don't vary your right hand technique, you just settle into same worn-out routines you've heard your 2nd cousins play at the last family reunion. Sweet Home Alabama sounds just like Puff The Magic Dragon, and neither one is far from Kum Ba Yah. Know what I mean?
Strumming vs. Picking
In this first video, I'll demonstrate a chord progression first with a full strum, then I'll play it by picking individual strings. The cool thing about this technique is that it's really easy to make it sound like you are playing some complex pattern of notes, like you are a guitar master. The truth is, if you are fingering the chord (any chord) correctly, you can't play a wrong note. You're just moving the pick around. Make sure you don't over-strum the chord – don't play more strings than are supposed to be involved with the chord – but experiment with different picking patterns.
Picking individual strings will help you keep the music moving, yet it will sound softer and more intricate.
Assignment #1: Choose a slow to moderate tempo song that you are used to strumming. On the verse of the song, try picking individual strings in some repeated pattern. You can sweep up the strings from lowest-sounding to highest-sounding, or sweep down the strings from highest-sounding to lowest-sounding. Jump around as much as you'd like. If you can repeat the pattern, it will be easier for the listener to follow. Now on the chorus of the song, go back to the full strum, and listen to how much contrast you've created. It's sounding more and more like the pros!
Bouncing Your Pick
A second way to subdivide your strumming is to think in terms of low strings (L), middle strings (M) and high strings (H). Now you are picking 2 or 3 strings at once. Your bottom boundary will usually be the lowest-sounding root, the letter name of the chord. A typical pattern for general use might be L – M – H – M – L – M – H – M using eighth notes. It feels kind of like you're bouncing your pick on the strings, and instead of following through with your wrist, you're stopping each stroke short and pulling your hand away slightly. You'll see what I mean as you try it.
Now when you use this technique in combination with a full strum, the contrast will make the depth and richness of your song really shine!
For a useful variation on this, try L – M – H – L – M – H – L – H. You song will start to take on a bit of a Latin feel.
Assignment #2: Again, choose a slow to moderate tempo song. Figure out how many strings you should be hitting for any given chord. For example, G, E and Em are all 6-string chords, C, A and Am are 5-string chords, D and Dm are only 4-string chords. Wherever the lowest root of the chord is, that's your bottom limit, becoming your "Low" strum. The 1st and 2nd strings, maybe the 3rd, are your "High" strings. And the strings between are your "Middle" strings, the ones above the low root and not as high as the 1st string.
Let your hand bounce between these string areas. Remember, a repeated pattern is easier for the listener to follow.  Try L – M – H – M,  L – M – H – M to start with.
Assignment #3: Using the two patterns Ijust described, play all the way through a song. When you're comfortable with your pattern, play part of the song with a full strum, then go to this Low-Middle-High kind of picking pattern in another part. This is a great way to take some of the volume and fullness out of the sound and yet keep forward motion going throughout the song.
Picking individual strings or aiming for areas of the strings with a Low – Middle – High approach are just two ways of introducing contrast into your music via your right hand. (I don't mean to discriminate, but you lefties will have to substitute right and left hand terms for yourselves!)
I'll be posting more techniques soon as we continue to look at the developing guitarist.
Have you tried each of these techniques in your own playing? How have they helped you shape your own music?
Please leave your comment below, or email any questions you have about music, worship, theory or musicianship to [email protected].
If you would like CaseTunes to arrive in your own personal inbox, we'll be happy to email it to you! Go to the upper right corner of this page and fill in your email address. You'll never miss another post! And you can be sure that I will never share your email information with anyone else, ever.
© 2014 Steve Case