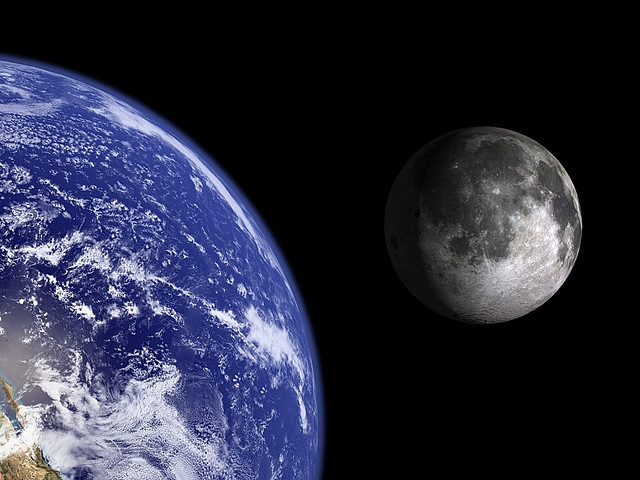 We talked recently about creating a song out of three basic chords. How simple can you create harmony and still have a functional tonal center?
Let me take you in another direction this week. How can we envision and pigeon-hole every progression that ever was or will be? What kind of structure would we need to wrap our minds around all the possibilities?
We've talked about rings of growth representing more and more tonal material, but they are pretty static. We need an analogy that's more dynamic, more inspiring.
Feels like we're shooting for the stars. Hey – that's it! We'll look at exploring music theory as an ever-expanding set of skills and concepts which we will call the Music Theory Solar System.
Our first goal in exploring this Music Theory Solar System (stay with me) will be to actually escape the earth's gravitational pull by playing some simple songs with just a few chords. Then we'll start to improvise lead lines as we explore the moon (I know, sounds a little like PBS. Patience.)
Escaping Earth's Gravity
Now if we're going to explore the universe, we've got to master some fundamentals. If we don't, our efforts have no chance of success. None. So we start small and simple.
For this metaphor, I'll assume you have an instrument (which could be your voice). I will also assume you know how to play to some degree. After all, the Wright brothers knew a little something about mechanical engineering, gravity and physics before they flew, too.
So our first direct effort toward exploring the Music Theory Solar System is to escape the earth's gravitational field. For the guitar player, this will mean playing a few chords and changing from one to another without dropping a beat.
It means playing clear tones with the tips of your fingers. It means knowing what a major scale is and how to build it.
And it means learning bar chords.
Being able to play a series of chords, that is, a "chord progression" is absolutely foundational. The simplest chord progression to build upon is a I IV V progression. For a more in-depth discussion of this type of chord pattern, check out When You've Only Got 3 Chords To Use…, and try a few songs from the list you find there. These are not all I IV V, but most are. And they will be great songs to build on.
These chords will allow you to play simple folk, country, and rock & roll styles. I'm sure there are others. But these three chords are where we start.
So if you've got those first techniques learned and you're playing some I IV V songs (even if you still make mistakes), we can proceed. Next stop: the Moon.
To The Moon
To make it to the moon in this analogy is to add simple melodies over the I IV V progressions you know. To do that, you'll need to learn a simple scale pattern as a basis for improvising (making it up as you go along). The simplest scale pattern to use? The major pentatonic mode.
One of the early fundamentals is to know how to build major scales (each major scale is a series of 8 tones in a whole-whole-half-whole-whole-whole-half step pattern). We assign numbers to the scale tones so that we are now talking about a major scale as 1 2 3 4 5 6 7 8.
The major pentatonic mode is really a partial scale. Pentatonic means "5-tone", and the tones we'll use are the 1st, 2nd, 3rd, 5th and 6th. A mode is simply an altered scale.
Now to improvise on a I IV V song, the best place to start is thinking about the major pentatonic mode that complements each of the chords. We'll use the key of C as an example. The I chord is C major, the IV chord is F major, and the V chord is G major.
When the I chord happens, improvise using the 1 2 3 5 6 1 of I (C), that is, C D E G A C.
When the IV chord happens, we'll use the 1 2 3 5 6 1 of IV. IV is F major, so the mode will turn out to be F G A C D F.
And when we hear the V chord, G major, we'll improvise using the 1 2 3 5 6 1 of V, which is G A B D E G.
Record yourself playing a single chord, let's say C, for 2 minutes. Or if you've got recording software, program the chord in and loop it to repeat. Then, listening to that chord, find the notes in the C major pentatonic mode on your instrument, and make it up as you go along. As long as you stay on those 5 letter names, you can't play a wrong note!
Do the same for F, then for G.
The next step is to combine chords and create progressions. Loop 2 measures of C going into 2 measures of F, then improvise to each chord, making sure to change your mode exactly when the chord changes. Now combine C and G in the same manner, and improvise using the C and the G major pentatonic modes.
Finally, put all 3 chords together in some repeatable pattern. Like one of those 3-chord songs. Making sure you are always playing the mode that matches the chord you're hearing, improvise your way through the song. Have fun, explore, jam out!
And when you look over your shoulder, don't be surprised to see Earth in the distance.
Have you escaped the Earth's gravity and learned to improvise yet? What aspect of it do you find the most fun?
Please leave your comment below, or email any questions you have about improvisation, music theory or Next-Step Musicianship to [email protected].
© 2015 Steve Case