I originally posted this in May.  But with Black Friday just a few days away and so much effort being put into gift-buying, I'm thinking this might be a good time to look once again at the gifts we already have – the gifts that can't be bought, just cultivated.
Have a Happy Thanksgiving, everyone!
[RE-POST] This past week, I wanted to re-pot a plant. It was not doing well, I had not done a very good job of taking care of it.
So I asked my wife, Sue, if she would help me with it.
Now it's not really that complicated a process. Thing is, I know that if I do it, the poor plant has a chance of surviving. But Sue is great at this stuff, you should see our backyard gardens!
When she does it, the plant will thrive.
Sue is gifted at many things. She is quite a fine musician, an accomplished decorator, a wonderful cook, just to name a few.
And some time ago, she discovered that planting and cultivating flowers was something she enjoyed.
She has gotten quite good at it, and it's amazing to me! The colors that burst forth all around the outside of our house in the spring are wonderful. And though the colors change, things keep blooming all through the spring, summer and fall! She is talented at gardening.
But what she is really gifted at is making her surroundings beautiful.
Now to her, it just makes sense. She does whatever is necessary to provide the right conditions, the right soil, the right space, the right color combinations, and so on. To me, it is a wonderful mystery!
But that's how it feels when we do things that align with our talents. To us, our actions don't seem like a big deal, there's no mystery, it just makes sense. And it makes us happy.
The Gift That Drives The Musician
For a musician to know if they are talented or not usually depends on other people. If listeners keep hanging around so that you'll play one more song, that's a good sign. And if they listen to a few bars and politely excuse themselves from the room, that's a different sign!
As they work at their craft, musicians will get better. The music will become more cohesive and colorful, with fewer jarring moments than when they started.
Talent doesn't have much to do with making music at first. But as time and efforts progress, talent is what takes the mechanical and makes it beautiful.
And then the real gift just might shine through. The gift behind the talent that mystically answers why the musician plays might show up. Because the gifted musician not only plays because she can, but she plays so that people might hear and be blessed by the experience.
Sounds pretty altruistic, doesn't it? What about the musician's ego? Don't they play to inflate their sense of self-worth?
Sometimes. But at the heart of it, if a musician's goal is to create something beautiful, or significant, or worthy, there has to be someone one the other side of it that appreciates its beauty, its significance, its worthiness. The goal of the musician is to bless someone with their art.
Gifts I Am Thankful For
As for me, I am good with music. I love the medium, I really enjoy playing around with song structure, melodies and harmonies, grooves I haven't tried before. Even writing lyrics. I work at my craft, learning and honing, writing and practicing.
But what drives me to keep creating, in addition to my own need for self-expression, is the joy of getting other people involved in hearing and playing it. Watching their reactions to my music is fun (usually); but having others learn my songs and play or sing them for an audience – what a trip!
And although my pride is involved, if I am to be totally honest with you, the thing I love to do is to encourage people to find joy in life by using their God-given gifts.
One of my favorite things to do is find people with a little ability and a timid heart and bolster their courage as well as build their skills. Then I step back and watch them fly! Time and time again, I've watched this happen, and it brings me joy every time.
Sue loves to plant things and watch them grow. That's what I love to do with people. Get them out of the familiar, limiting confines of whatever pot they've been living in, pour in some fresh dirt, supply the water and fresh air – then watch them turn their face up to the sun and thrive.
What Gift Lies Behind Your Talent?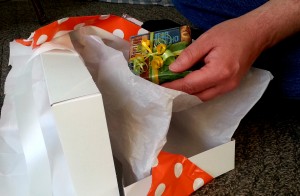 You may know already what you're good at, where your talent lies. But the real gift is being able to use your talent in the service of others. There is great joy in it on both ends! If you haven't thought about it much, or if you need some ideas on how to benefit others with your talents, here are some thoughts to get you started:
Examine your skills – what are you good at and what have you learned to be good at? Can you imagine it as a skill you would employ with someone or for someone?
Examine your interests – what medium do you like to work with? Numbers? Music? Conversation? Wood or metal? Are you a talented cook? Do you love to build things? Who would benefit from your knowledge and expertise in this area?
What have you had success at in the past? How have others been touched by your efforts? What good things happened when you operated out of your strengths, doing what you have been hard-wired to do?
What do others say you are gifted at? And how might you use your talents in new ways? Ask family and friends, they'll tell you. Make sure you ask people who will tell you the unvarnished truth, however.
How have you found joy in using your gifts to benefit others, in music or something else? I'd love to hear your thoughts on this! Please leave a comment below, or email any questions to [email protected].
And if you find these blogs are helpful to you, we can deliver them right to your email inbox. Go to the top right corner of this page and fill in your email address, and you'll never miss another post! And you have my promise that I will never share your email address with anyone.
© 2014 Steve Case