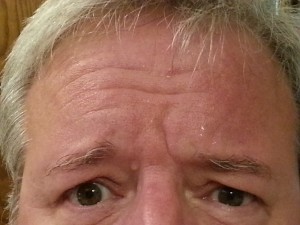 Every so often, extended families engage in an emotionally draining, usually fun, always risky activity. I am, of course, referring to the "family reunion".
As I write this, my wife, my brother-in-law, sister-in-law and I are on our way to north central Michigan for our yearly event. Though this reunion is for my wife Sue's family, I really look forward to it and the opportunity to catch up with their family, neat people with hearts of gold. (And no one paid me to say that!)
One of the impromptu activities that may take place today is a bit of singing, and so my guitar is in the car. And I find myself getting just a little nervous about it.
I'm not worried about the actual playing. It's informal and I know my instrument pretty well. But what songs will we sing? We'll probably start with some standards and then at some point, we'll realize we really don't know the words. Like, "Keep spreading the news, I'm leavin' today, la la la la la la la la… NY, NY!" It's really amazing how many songs have similar lyrics.
Expect to be Nervous
I'm sure you know what I mean. Every performer experiences fear before the performance. In fact, a little anxiety is not something to be endured, rather it can be a useful tool. It is necessary, so that we stay sharp and do our best. Successful performers at every level and in every medium know to expect it; each one has learned to control it, letting it drive their performance to a higher level of excellence.
On Sunday mornings, I usually lead the music teams at our church. Even though I've been doing this for years, I still get a little nervous every week. Once in a while, I'm tempted to relax and let the familiarity of the routine take over. And on those weeks, I almost always blow it in some way, sabotaging any sort of worshipful moment we are trying to create. And so I should be a little anxious, a little nervous. It helps.
Now for some, fear can certainly be a debilitating thing, and too much nervousness can paralyze. Such was the case with a friend of mine, a flute player with many gifts and a servant's heart. Yet for a full six months, every time I would ask her if she wanted to play on the music team with us, she would put me off, citing her fear as the reason.
The first time I asked her about playing, I found her bravely working in the church nursery, a place that makes me break out in a cold sweat! But she told me that there was NO WAY that she would ever be able to get up in front of people and play. Much to nervous.
I remember the day, weeks later, when I once again asked her my now routine question. "So… when are you going to start playing with us?"
She stood up slowly, coming over to the partially closed Dutch-door that kept the kids inside. With a slightly scared yet purposeful smile, she surprised me and said, "Steve, I'm going to say yes. Yes, I'll play. But I want you to know that I'm scared to death!"
I joyfully told her that we could work with that, and welcome to the music team! And her determination paid off. Six months later, after the opening set of music for a Saturday night service, she rushed over to me with a huge smile on her face.
"Steve, Steve… I wasn't scared that time!!" Hallelujah! What a wonderful moment! And what a joy for me, to have played a part in a good friend's victory over fear.
How to Handle Fear
So how can we learn to handle fear when faced with a nerve-wracking performance? Here is what I do.
1) Accept fear as a normal part of performing. You're laying out your heart through your music for all to see and hear, and so often we are judged on our performance. We are risking being hurt. But you've got it in you to take the risk.
2) Remind yourself of your why. Why are you about to perform? What outcomes are you hoping for? Maybe you want to impress so that more opportunities come out of it. Maybe you want to please the listeners for the sake of being a blessing. Maybe the excitement of performing draws you. Remembering your why really helps you push through the nerves and think clearly about what's ahead.
3) Rely on your training. You know your craft and you know your tools. Think through your performance in the way that you have been taught. Your teachers have paved the way for you.
4) Rely on friends. Your friends want you to succeed, and they are glad to help you in many ways, from listening to advice, from helping with resources to prayer. Good friends are ready to come to your aid, just let them know how they can be of service to you.
5) Purposefully take a mental snapshot of the moment. You were made for this moment, so do your best to take it all in. You might even enjoy it!
6) Prayer. I have faith that there is a God who loves me and cares about what happens in my life. And so for me, praying before I perform is essential.
7) Take the plunge. Now all the prep work is done, this is your moment. Go out there and do what you were born to do!
How have you learned to overcome your fear? Do you expect it, or does it still surprise you? Is handling fear one of your next steps?
I'd love to hear about your experience with this. If you would like to leave a comment, please do so below and we can all benefit from your experience! Or if you'd like to email me with any questions about music, music theory or next-step musicianship, contact me at [email protected].
(c) 2013 Steve Case